Promotions
Beer Ariana/ Pirinsko + Lotto Mega pops cheese/ pizza
Timespan: From 01.06.2018 until 30.09.2018
Coverage: Sofia
The summer will not be full without a cold beer! Take a cool rest from the hot days and evenings with a cold beer and a snack at a promo price from Dieselor's petrol station, Sofia.
Buy Ariana/ Pirinsko beer + Lotto Mega Pops cheese/ pizza at a special price for only 2.09 lv!
This promotion applies to the following petrol stations:
Sofia, 4 "Amsterdam" boul.
Duration of the promotion: from 01.06.2018 until 30.09.2018 or until stocks last.
Other promotions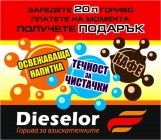 Timespan: From 01.04.2019 until 31.10.2019

Timespan: From 25.02.2015 until 31.12.2016

Timespan: Unlimited until Dieselor changes the conditions.