Promotions
Bonus points for big discounts with Dieselor's Club Card
Timespan: From December 01, 2022 until stocks last.
Coverage: Plovdiv
The youngest site of Dieselor's chain of gas stations, located in zhk. Trakiya, Plovdiv, welcomes its customers with a new attractive campaign, part of Dieselor's Loyalty Program. Get a Club Card to collect bonus points every time you fill up with fuel!
Real bonus points for big discounts on desirable items!
Fuel up, collect points and exchange them for a curated selection of limited amount branded products* at 40% to 65% off!
Choose an original Qatar 2022 World Cup soccer ball, favorite children's toys Lego, Playmobil and Bburago, high-quality Japanese stainless steel knives!
Take a look at the specially selected goods on site at Dieselor gas station in zhk. Trakiya, Plovdiv and take advantage of the irresistible discounts! Make yourself and your loved ones happy!
The promotion is valid at the following sites:
Plovdiv, zhk. Trakiya, 21 "Yagovsko shosse" str.
Duration of the promotion: from December 01, 2022 until stocks last.
*Limited quantity of the goods on site.
Other promotions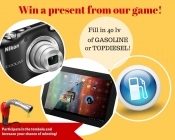 Timespan: From 13.05.2015 until 23.07.2015 or until stocks last.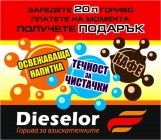 Timespan: From 13.04.2020 until 31.10.2020

Timespan: Until November 12, 2021.