Promotions
Coffee espresso + Twix
Timespan: From 01.03.2017 until stocks last.
Coverage: Stambolijski
Petrol station Dieselor in Stambolijski is welcoming spring with an energizing offer!
Take Coffee espresso + Twix at a special price for only 1.19 lv!
For a morning awakening or an afternoon refreshment, this great combination of biscuit, caramel and chocolate is the best company for your favourite coffee from petrol stations Dieselor!
The promotion applies to the following objects:
Stambolijski, 32 "Trakiya" boul.
Period of the promotion: from 01.03.2017 until stocks last.
Other promotions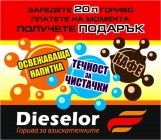 Timespan: From 01.04.2017 until 31.10.2017

Timespan: From 25.02.2015 until 31.12.2016
Timespan: Unlimited until Dieselor changes the conditions.