Promotions
Fresh summer with Dieselor
Timespan: From 01.08.2019 until 30.09.2019
Coverage: Sofia, Plovdiv, Stambolijski
Summer is the time to freshen up and cool down to get ready for many summer adventures!
Dieselor will help you in the hot days with the best combination for this purpose! Just choose your favorite ice- cream and strong coffee:
Old Time Izida ice-cream different tastes + espresso coffee only for 1.99 lv!
Bounty, Mars, Twix, Snckers ice-cream bar + espresso coffee only for 1.79 lv!
Hurry up! The summer days go by unnoticed, enjoy them the most!
The promotion is valid in the following petrol stations:
Sofia, 4 "Amsterdam" Blvd.
Plovdiv, 139 "Vasil Aprilov" Blvd.
Stamboliyski, 32 "Trakiya" Blvd.

Duration of the promotion: from 01.08.2019 to 30.09.2019.
Other promotions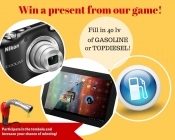 Timespan: From 13.05.2015 until 23.07.2015 or until stocks last.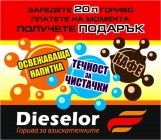 Timespan: From 13.04.2020 until 31.10.2020

Timespan: Until November 12, 2021.