Promotions
Fuse tea + free espresso coffee
Timespan: From 21.01.2019 until 31.01.2019
Coverage: Sofia
New coffee blend in petrol station Dieselor, Sofia!
Italian quality for real coffee lovers!
Take now Fuse tea + free espresso coffee with a rich taste!
Come, get your gift, taste it and you are going to return every day for our Bellissimo coffee!
The promotion applies to the following petrol stations:
Sofia, 4 "Amsterdam" boul.
Period of the promotion: from January 21, 2019 until January 31, 2019.
Other promotions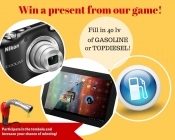 Timespan: From 13.05.2015 until 23.07.2015 or until stocks last.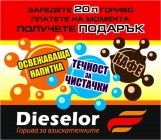 Timespan: From 13.04.2020 until 31.10.2020

Timespan: Unlimited until Dieselor changes the conditions.