Promotions
Get your lucky card, receive a gift!
Timespan: From December 20, 2021 until stocks last
Coverage: Sofia, Plovdiv, Stambolijski, Varna, Novi pazar
What's your luck? Scratch your card, receive one of 3322 gifts!
Fill up in petrol stations Dieselor and immediately check whether you win! Every second wins!
Is it your lucky day today? It can be with every fill up of fuel in petrol stations Dieselor. Load gasoline, diesel or Topdiesel for 30 lv or LPG for 20 lv, get a scratch card and check your gift!
Draw a coupon, remove the scratch cover and immediately see what is your luck:50 bonus points
Mineral water 0.5 l
Troya waffle
Espresso coffee
Premium gift
Coffee mug Dieselor
Thermo cup Dieselor
Multifuctional knife Dieselor
Voucher for fuel 5 lv
Voucher for fuel 20 lv
Try again
Remember that in order to receive your gift, you must delete your scratch card at the moment of the purchase in the petrol station.
*Everyone involved in the promotion "What's your luck?" confirms that he has read and agrees with the Official Terms and Conditions.
** The promotion applies only to individuals who pay at the moment - cash, credit or debit card.
*** The promotion can be combined with Dieselor's Discount Card and a Dieselor's Club Card.
**** The promotion cannot be combined with the Winter Promotion for a gift.
Other promotions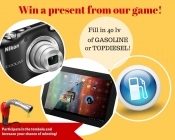 Timespan: From 13.05.2015 until 23.07.2015 or until stocks last.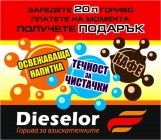 Timespan: From 13.04.2020 until 31.10.2020

Timespan: Until November 12, 2021.