Promotions
Load fuel and save money from the Annual Technical Control!
Timespan: From 25.02.2015 until 31.12.2016
Coverage: Sofia
Every year all drivers inevitably visit the Annual Technical Control - a mandatory requirement for everyone!
To facilitate its customers, Dieselor, Sofia, offers a gift voucher for a discount for the Annual Technical Control!
Every time that you refuel for 30 leva - for cars cat. M1 or for 50 leva - trucks cat. N1, you will receive a gift voucher for 6 leva for ATC in Technostroy.
Especially for you, Dieselor and Technostroy are partnering, so that you save money and meet the requirement at the same time:
Cars cat. M1 - 36 leva instead of 42 leva

Cars cat. M1G - 42 leva instead of 48 leva

Trucks cat. N1 - 54 leva instead of 60 leva

Trucks cat. N2 and N3 - 66 leva instead of 72 leva and 84 leva
Not only that! Technostroy is extremely well-located for all of Dieselor's customers in Sofia. You will find it on 4 "Amsterdam" boul., right behind the petrol station. Working time: Monday-Friday from 8.00 am till 5 pm.
This promotion applies to the following sites:
petrol station Dieselor - Sofia, 4 "Amsterdam" boul.

Annual Technical Control Technostroy - Sofia, 4 "Amsterdam" boul.
Duration of the promotion: from 25.02.2015 untill 31.12.2016.
* Validity - until the end of year 2016. After you have used the voucher, you must leave it to the staff in Technostroy.
Other promotions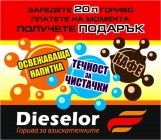 Timespan: From 01.04.2017 until 31.10.2017
Timespan: Unlimited until Dieselor changes the conditions.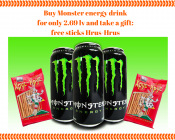 Timespan: from 02.07.2015г. untill stocks last