Promotions
Load fuel for a TV!
Timespan: From 07.05.2019 until 01.09.2019.
Coverage: Sofia, Plovdiv, Stambolijski, Varna, Novi pazar
The travel and holiday season started, but before you set out, first make sure to do two things: load fuel at Dieselor's petrol stations and leave room in the trunk for the gifts we have prepared for you!
And the gifts are a lot and really great!
Load gasoline or Topdiesel or 25 lv or more, or 20 lv of LPG or more, and take part in the monthly lotteries to win 18 fuel vouchers worth 30 lv and 18 bottles of whiskey, as well as in the big lottery for winning 4 32-inch TVs, 5 portable bluetooth speakers and 4 barrels of beer. Every month there is a new draw for fuel and whiskey, and in the end of the promotion is the final draw for the big prizes!
For an unforgettable summer! Load fuel regularly, win more!
This promotion applies to the following petrol stations:
Sofia, 4 "Amsterdam" street
Plovdiv, 139 "Vassil Aprilov" boul.
Plovdiv, 32 А, Kuklensko shosse, Customs terminal
Stambolijski, 32 "Trakya" boul.
Varna, 104 "Devnya" street
Novi pazar, 39 A "Tzar Osvoboditel" boul.
Duration of the promotion: from 07.05.2019 until 01.09.2019.
* This promotion applies only for individuals paying in cash, with credit or debit card.
** This promotion can be combined with Dieselor's discout card, Dieselor's loyalty card and the summer promotion for quantity.
Other promotions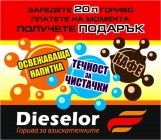 Timespan: From 01.04.2019 until 31.10.2019

Timespan: From 25.02.2015 until 31.12.2016

Timespan: Unlimited until Dieselor changes the conditions.