Promotions
Load fuel with 12 st./l discount in petrol stations Dieselor
Timespan: Unlimited until Dieselor changes the conditions.
Coverage: Sofia, Plovdiv, Stambolijski, Varna, Novi pazar
As the travel season already began, we want to facilitate our customers and make your travel more enjoyable. For this reason, we have prepared a special spring discount for all current and future customers of the chain!
Load unlimited quantity of fuel with 12 st./l. discount with Dieselor card! In case you do not have one, you can easily receive yours in any of our petrol stations. For this purpose, you should only make a single load of 20 litres and then you can immediately use your card and the discount. Until December 16, 2018 load fuel for only 20 lv and get your discount card!
Fill up with our premium diesel fuel - Topdiesel with 12 st./l discount!
There is no minimum quantity requirement for subsequent fuel purchases. Load as much as you want and save money at the same time.
During the promotional period you can use the following discounts in petrol stations Dieselor:
Sofia:
10 st./l. for gasoline and diesel

12 st./l. for TopDiesel
Plovdiv and Stambolijski:
10 st,/l for gasoline and diesel
12 st./l. for TopDiesel
3 st./l for LPG
Varna and Novi pazar:
10 st./l. for gasoline and diesel
12 st./l. for TopDiesel
5 st./l for LPG
Hurry up, drive cheaper!
This promotion applies to the following petrol stations:
Sofia, 4 "Amsterdam" street
Plovdiv, 139 "Vassil Aprilov" boul.
Stambolijski, 32 "Trakiya" boul.
Varna, 104 "Devnya" street
Novi pazar, 39 A "Tzar Osvoboditel"
Duration of the promotion: unlimited until change in the conditions.

*This promotion can't be combined with other discounts or promotions.
Other promotions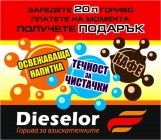 Timespan: From 01.04.2019 until 31.10.2019

Timespan: From 25.02.2015 until 31.12.2016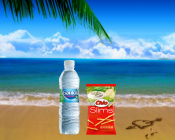 Timespan: From 27.07.2015 until 11.08.2015 or until stocks last.