Promotions
Love month in Dieselor
Timespan: From 01.02.2019 until 28.02.2019
Coverage: Sofia, Plovdiv, Stambolijski, Varna, Novi pazar
Love month!
Join our game by sharing wth us your feedback from petrol stations Dieselor and participate for one of the 10 gifts!
Answer the question on our tablets: "What is the thing that you most love in petrol stations Dieselor and because of which you are our customer?"
On March 01, 2013 we will announce the ten winners who will receive a voucher for free fuel or a bottle of whiskey!
Let's spend this February with lots of love and smiles! We love our clients, tell us why you love us as well!
This promotion applies to the following petrol stations:
Sofia, 4 "Amsterdam" street
Plovdiv, 139 "Vassil Aprilov" boul.
Stambolijski, 32 "Trakiya" boul.
Varna, 104 "Devnya" street
Novi pazar, 39 A "Tzar Osvoboditel"

Duration of the promotion: from February 01, 2019 until February 28, 2019.
Other promotions

Timespan: From 25.02.2015 until 31.12.2016

Timespan: Unlimited until Dieselor changes the conditions.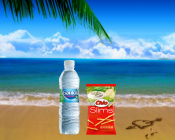 Timespan: From 27.07.2015 until 11.08.2015 or until stocks last.