Promotions
Low prices for everyone in petrol station Dieseor, Novi pazar
Timespan: From May 22, 2020
Coverage: Novi pazar
Low prices, affordable for everyone!
Refuel at the Dieselor's petrol station in the town of Novi Pazar at special promo prices with a big discount included! No minimum quantity, no need of discount card, accessible to all customers!
Gasoline - 1.67 lv/ l
Diesel - 1.65 lv/ l
Topdiesel - 1.75 lv/ l
LPG - 0.80 lv/ l
Hurry up!
The promotional activity applies to the following objects:
Novi pazar, 39 A "Tsar Osvoboditel"
Period of the promotion: from May 22, 2020
Dieselor has the right to stop the promotion at ay time by pubishing the information on the official website.
*The picture is illustrative. The actual prices are in the text above and on the website.
**The promotion cannot be combined with discount card Dieselor.
Other promotions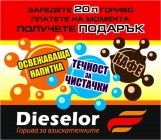 Timespan: From 13.04.2020 until 31.10.2020

Timespan: Unlimited until Dieselor changes the conditions.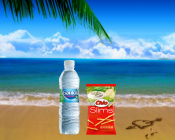 Timespan: From 27.07.2015 until 11.08.2015 or until stocks last.