Promotions
Monster energy drink + GIFT sticks Hrus-Hrus
Timespan: from 02.07.2015г. untill stocks last
Coverage: Sofia
You are welcome to petrol station Dieselor in Sofia to take advantage of our summer promo combination!
Refresh yourself with Monster energy drink for only 2.69 lv and take free sticks Hrus-Hrus as a gift!
Energize yourself in the hot summer days and take stick to eat while driving on the roads!
The promotion applies to the following petrol stations:
Sofia, 4 "Amsterdam" boul.
Duration of the promotion: from 02.07.2015 untill stocks last.
Other promotions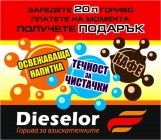 Timespan: From 01.04.2017 until 31.10.2017

Timespan: From 25.02.2015 until 31.12.2016
Timespan: Unlimited until Dieselor changes the conditions.