Promotions
Motip sprays and flat windshield wipers
Timespan: From 01.04.2018 until 31.05.2018
Coverage: Varna, Novi pazar
Spring promotion of Motip sprays and flat wipers at Dieselor Varna and Novi Pazar!
Only now take advantage of the special discounts on the following items:
Rain Protection Spray Motip
Glass spray anti-condensation Motip
Wheel Cleaner Spray Motip
Spray for Dashboard glossy Motip
Spray for Satin Dashboard Motip
Silicone Spray Motip 400 ml
Flat Wipers all sizes
It is time for the spring cleaning of the car!
The promotion applies to the following objects:
Varna, 104 "Devnya" street
Novi pazar, 39 A "Tzar Osvoboditel" street
Period of the promotion: from 01.04.2018 until 31.05.2018 or until stocks last.
Other promotions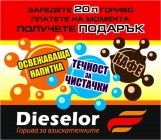 Timespan: From 01.04.2019 until 31.10.2019

Timespan: From 25.02.2015 until 31.12.2016

Timespan: Unlimited until Dieselor changes the conditions.