Promotions
Refuel your truck, have a good meal!
Timespan: From 25.03.2019
Coverage: Plovdiv
Refuel your truck, have a good meal!
Load fuel in our new petrol station Dieselor in Plovdiv, Customs terminal and take a free lunch!
Load at least 100 l of fuel and immediately get a coupon for free food - soup + a main dish!
Make your stay in the Customs pleasant, useful and nutritious!
The promotion is valid for the following petrol stations:
Plovdiv, South district, 32 "Kuklensko shose", Customs Terminal

Duration of the promotion: from March 25, 2019.
* All participants agree with the Official Terms and Conditions of promotion "Load your truck, satisfy your hunger".
** This activity can not be combined with other promotions and discounts.
Other promotions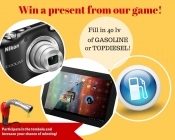 Timespan: From 13.05.2015 until 23.07.2015 or until stocks last.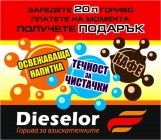 Timespan: From 13.04.2020 until 31.10.2020

Timespan: Unlimited until Dieselor changes the conditions.