Promotions
Share your opinion, register a receipt and win fuel from Dieselor
Timespan: From December 24, 2020 until April 30, 2021
Coverage: Sofia, Plovdiv, Stambolijski, Varna, Novi pazar
The opinion of each of our customers is important and valuable. That is why, we at Dieselor, want to hear feedback from each one of you - up to date and in real time!
Share your opinion after visiting a site of Dieselor's chain of petrol stations, register the receipt number, together with the date and time of the refueling or purchase, and answer only a few questions.
Filling in this short survey will bring a chance every month for two lucky people to win a fuel voucher worth BGN 50!
Get stated on the link here or scan the QR code and make every trip even more enjoyable!
Lucky winners from the first month:
Ivan Ivanov, Sofia
Rumen Raykov, Novi pazar
Lucky winners from the second month:
Daniel Kabakov, Sofia
Vladimir Moralijski, Plovdiv
Lucky winners from the third month:
Ivaylo Mihaylov
Ivan Nikolov
Other promotions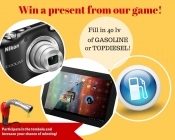 Timespan: From 13.05.2015 until 23.07.2015 or until stocks last.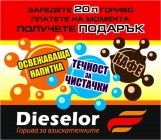 Timespan: From 13.04.2020 until 31.10.2020

Timespan: Until November 12, 2021.