Promotions
Spring cleaning of the car
Timespan: From 01.04.2018 until 31.05.2018
Coverage: Sofia
With the onset of spring, it is time to make a spring cleaning of the car!
Only now buy the following products at promotional prices:
Lustrous sponge for car
Wet leather towels
Microfiber sponge
Deer chamois
Microfibre
Cleaning chamois
Silicone spray for antistatic board
Stac Plastic Spray Spray 200 ml
Stac Plastic Spray 400 ml
Get your car in shape for the spring and summer trips!
This promotion applies to the following petrol stations:
Sofia, 4 "Amsterdam" boul.
Duration of the promotion: from 01.04.2018 until 31.05.2018 or until stocks last.
Other promotions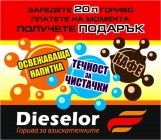 Timespan: From 01.04.2019 until 31.10.2019

Timespan: From 25.02.2015 until 31.12.2016

Timespan: Unlimited until Dieselor changes the conditions.