Promotions
Staropramen + Peanuts
Timespan: From 13.04.2017 until stocks last.
Coverage: Novi pazar
What is better for the opening of the summer season than cold beer in combination with delicious peanuts?
Take advantage of this promo combination Staropramen beer 0.5 l + Peanuts at a special price of only 2.19 lv!
Refreshing ice-cold beer at the beginning of summer!
The promotion applies to the following objects:
Novi pazar, 39 A "Tzar Osvoboditel" street
Period of the promotion: from 13.04.2017 until stocks last.
Other promotions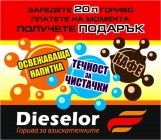 Timespan: From 01.04.2017 until 31.10.2017

Timespan: From 25.02.2015 until 31.12.2016
Timespan: Unlimited until Dieselor changes the conditions.