Promotions
Win a camera, a tablet or free fuel for an unforgettable summer!
Timespan: From 13.05.2015 until 23.07.2015 or until stocks last.
Coverage: Sofia, Plovdiv, Stambolijski, Varna, Novi pazar
Petrol stations Dieselor are inviting you to participate in the new game and take part in the competition for the winning of the presents!
Fill in gasoline or topdiesel for 40 lv and you will immediately receive a coupon for participation. The more times you take part, the bigger the chance to be the winner. What are the awards for the lucky clients?
The present that we have prepared for you are the following:
Nikon camera

tablet with 7-inches display

free fuel for 30 lv
Let the summer begin now! Winning presents while making your ordinary filling of fuel has never been so nice!
This promotion applies to the following petrol stations:
Sofia, 4 "Amsterdam" boul.

Plovdiv, 139 "Vassil Aprilov" boul.

Stambolijski, 32 "Trakiya" boul.

Varna, 104 "Devnya" str.

Novi pazar, 39 A "Tzar Osvoboditel" str.
Duration of the promotion: from 13.05.2014 untill 23.07.2015.
The announcement of the winners will take place on 27.07.2015.
*The promotion does not apply to legal entities.
** Owners of cards for discount and club card Dieselor can also take part.
Other promotions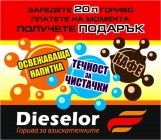 Timespan: From 13.04.2020 until 31.10.2020

Timespan: Unlimited until Dieselor changes the conditions.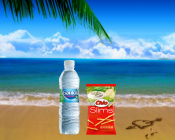 Timespan: From 27.07.2015 until 11.08.2015 or until stocks last.