Dieselor Club Card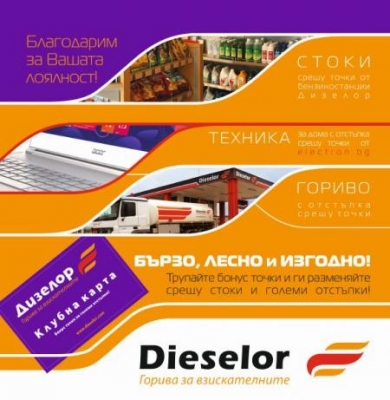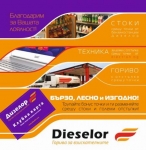 All customers of Dieselor's gas stations are welcome to take part in Dieselor Club Card program.

Program's conditions are as follows:
You can take your Club Card from every Dieselor's petrol station.
Hand your Card to the operator when fuelling so that bonus points can be marked.
Accumulation of bonus points is carried out automatically with each refueling, regardless of the amount, as the rule applies:

- when paying on the spot (in cash or by bank card):
1 l = 1 point for gasoline, diesel and propane-butane
1 l=2 points for Topdiesel

- for credit top-ups (deferred payment):
1 l=0.1 point (10 l=1 point) for gasoline, diesel and propane-butane
1 l=0.2 points (10 l=2 points) for Topdiesel
You can trade your collected bonus points for big discounts on diverse goods at the petrol stations: car accessories, foods & drinks, etc.
You will find a big variety of gifts and discounted goods that can be traded for your bonus points.Take a promo code for 5% or 7% discount when shopping appliances, instruments and gifts from the biggest, Bulgarian online shop: www.electron.bg!
You can ask information about the amount of bonus points you possess as well as the discounted goods available at every petrol station.
If you want to be sure that you won't forget your discount and loyalty cards, download the Cardbox app on your phone and have them always with you in a digital format!