Promotions
Petrol stations Dieselor are more than just a place for filling fuel! For us the comfort of the customers takes the first place! For this reason we strive not only to meet your expectatins but to exceed them!
Regularly follow our active promotional activities because surely everyone will find something suitable

Timespan: Unlimited until Dieselor changes the conditions.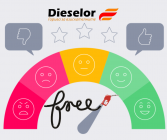 Timespan: From December 24, 2020 until April 30, 2021

Timespan: From March 22, 2021 until stocks last